Le Nowhere est entièrement géré par des volontaires – c'est-à-dire :  VOUS  !
On a besoin de votre aide !
Le Nowhere est entièrement géré par des volontaires – c'est-à-dire : TOI !
Nous sommes tous responsables de ce que constitue cet évènement ! VIVE LES VOLONTAIRES !
Le système d'enregistrement des volontaires, désormais appelé For Information & Scheduling Teams (FIST), est opérationnel et vous pouvez vous inscrire en cliquant sur ce gros bouton :
VOUS POUVEZ VOUS IMPLIQUER A DIFFERENTS MOMENTS :
Set-up & strike (montage et démontage)
Pendant le montage, ou « set-up » : Tout ce qui a lieu avant l'événement : construction, organisation, production, mise en place de l'électricité, planification urbaine, gestion du bien-être des bénévoles, etc.
Nous construisons une ville à partir de rien. Les conditions sont difficiles et le travail est dur, mais c'est extrêmement gratifiant. En quelques jours, des liens très forts se crééent entre les gens. Tout le monde sur place se donne pour qu'une drôle d'Utopie appelée Nowhere existe.
Pendant le démontage, ou « strike »: Il est temps de revenir à nos principes. On s'est bien amusé, mais il faut démonter toutes les structures et nettoyer chaque parcelle en chassant les MOOP jusqu'à ce qu'il ne reste plus qu'une toile de nouveau vierge.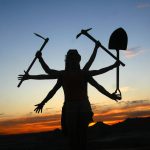 Pendant l'année (au chaud chez soi)
Nous avons également d'autres rôles disponibles pour aider à planifier et à produire Nowhere. Si vous souhaitez vous impliquer davantage, alors l'un des rôles ci-dessous pourrait vous convenir. Jetez un coup d'œil à la liste ci-dessous pour voir ce dont nous avons besoin maintenant et contactez l'adresse électronique associée.
Sur place (dans le désert)
ROLES URGENTS à pourvoir pour 2020
Nous avons toujours besoin de volontaires pour les équipes des Nomads, la Gate Crew (l'entrée), les Interpreters (interprêtes), le Sound/Lights/Power (équipe technique) et La Cantina (réfectoire)… Si vous souhaitez être plus impliqués ou faire quelque chose de différent de l'année dernière, la liste ci-dessous indique nos besoins du moment. Si une position vous intéresse, envoyez un email à l'adresse qui y est jointe.
Désolé, pas de traduction pour cette partie qui change souvent. Si vous voulez plus d'infos sur un rôle spécifique, n'hésitez pas à contacter l'équipe en question.
Build Strike Design Management Roles 
Strike Co-Leads – Oversee Nowhere being put into boxes and cleared away from site after the event – strike@goingnowhere.org
Strike Leave No Trace Co Lead – The purpose of this role is to oversee a team of volunteers who together ensure that once event has finished there really is No Trace. Either organising line sweeping for MooP (matter out of place) or teaching volunteers how to assist people using the W&R (Waste and Recycling Zone) there are many ways to ensure the field is restored to its original state. It will require somebody who is available to stay until the end of strike for up to 10 days. – lnt@goingnowhere.org
City Planning Roles
City planning needs a few volunteers who help us make the city in the few weeks before the event. Out of these volunteers we need a few leads who can help us with the following leads…and no worries, anyone can do it. Interested? – email at cityplanning@goingnowhere.org 
 

Signage Lead – Want to know where you're going on site? So does everyone else! Design signs, plan and map out where our signs should go starting a week before the event.
Placement Lead – arriving first days of build, playing around with gps, marking the location of all structures on site. Easy as it sounds.
Demarcation lead – 1 a 2 weeks before the event you and your team put up the city's contour, by hammering rebar in the soil, placing signs, making fences… it takes a little endurance and muscles.
City Planning strike lead- after Nowhere you and a team are taking down all demarcation and signage items and making an quick inventory of what is left and what goes in which container.  Takes 1 or 2 days.
Creativity Roles
Innovation lead or co-lead – The innovation team manages innovation projects that make Nowhere better in some way, or address an existing problem. You will manage innovation grants and foster innovation projects. – art@goingnowhere.org
Gate, Greeter & Perimeter Roles 
Finance Roles 
Barrios FineAnts lead – The person that help liase with the barrios presale and all the money related matters between Norg and barrios. – finance@goingnowhere.org
Bus co-lead (habla español) – You will be in charge of the bus operations with Caroline and Hécate, with a special focus on tasks that require communications with the bus company, bus drivers (calls, invoices, facturas). Contact us at bus@goingnowhere.org !
Leave no traces Roles 
LNT Social Media Lead – deal with our fb page and post LNT info on other Nowhere fb pages and respond to Q's & comments that arise. – Pre-event only- lnt@goingnowhere.org
LNT Volunteer Coordinator – help recruit and brief volunteers. Monitor Fist and liaise between volunteers and LNT team leaders –Pre-event-only– lnt@goingnowhere.org
LNT METALEAD – Manage the LNT Team Leads, monitor/oversee preparation pre- event, set up, event time and strike. The LNT Meta lead need to both focus on the Long term objectives of Nowhere and on the immediate objectives and plans for the next Nowhere. – Year Round Role– lnt@goingnowhere.org
LNT Trash Pandas Lead – Organising the Trash Pandas: removal or waste and recycling from NORG locations. – lnt@goingnowhere.org
Production Roles 
Participant Wellness Roles 
Site Infrastructure Operations (Si-Ops) Co-Lead – Event time site management, dealing with structures, deliveries, and general operation of the event – site@goingnowhere.org 
Sound Light and Power Roles 
Event-time Power Lead – Manage the team of Power Rangers that maintains Nowhere's power grid and keeps electricity flowing throughout the event – power@goingnowhere.org
Volunteer Roles 
Cantina co-lead – Plan and run the crew kitchen, organise delicious meals for hungry volunteers so they will be forever grateful – cantina@goingnowhere.or
Les bénévoles de Nowhere doivent respecter notre Code de Conduite.
Ceux qui sont bénévoles sur place doivent acheter un billet.
Si vous avez des questions à propos du bénévolat à Nowhere, contactez volunteers@goingnowhere.org