We need your help! Everything at Nowhere is run by volunteers – this means: YOU!
We are all responsible of what is this event! YAY VOLUNTEERS ARE AWESOME!
The volunteer registration system, now called For Information & Scheduling Teams, is live and you can register by clicking this big button:
YOU CAN BE INVOLVED IN DIFFERENT TIMES:
During the set-up (pre-event operations such as build, production, power, city planning, etc): We raise a city from the ground up. Harsh conditions, intense labour and work hours. It is extremely rewarding, you'll create in few days connections that will be stronger than any others. When everyone on site works their ass of towards one goal: this weird Utopia called Nowhere.
During strike : We've had our fun, but it's also time to stick to our principles. We strike all structures, clean and chase down every last piece of moop until there is nothing besides a blank canvas.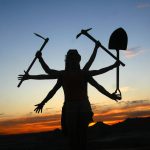 We also have some other roles available to help plan and produce Nowhere. If you would like to get more involved that way then one of the roles below might be perfect for you. Take a look at the list below to see what we need right now and contact the associated email address.
A lots of hands are needed in a variety of roles to keep things running smoothly during the event! Use the For Information & Scheduling Teams system to sign up! or go to NoInfo during the event.
URGENT 2020 ROLES TO BE FILLED
We always need Nomads, Gate Crew, Interpreters, Sound/Light/Power,  La Cantina crew etc. but we also have quite a few year round roles if you would like to get more involved, or want to do something different than last year – the list below is what is currently up for grabs so if anything sounds interesting to you, please contact the email next to the role.
Build Strike Design Management Roles 
City Planning Roles
Gate, Greeter & Perimeter Roles 
Finance Roles 
Production Roles 
Participant Wellness Roles 
Sound Light and Power Roles 
Event-time Power Lead – Manage the team of Power Rangers that maintains Nowhere's power grid and keeps electricity flowing throughout the event – power@goingnowhere.org 
Volunteer Roles 
Cantina co-lead – Plan and run the crew kitchen, organise delicious meals for hungry volunteers so they will be forever grateful – cantina@goingnowhere.or