In Hawaiian culture, there is an understanding of community, which is expressed through Ohana. Directly defined, Ohana means "family", but the deeper meaning reaches beyond just our blood-relations, to include the intentional family we form through life. At Nowhere, our ohana includes a wide range of ages, orientations, cultures, languages, and abilities. We only have a brief time together before we re-expand across the world, but in this time together, we are family.
The Department of Inclusion works to ensure that all language groups, age demographics, and minority groups among the community are considered and supported in the planning and completion of the event.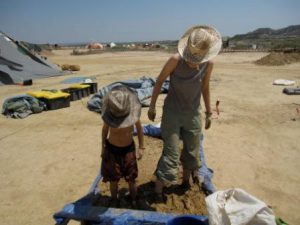 With all of these hot desert days and wild colorful nights, where do kids fit into the picture? While Nowhere is still a primarily adult atmosphere, we recognize and respect all stages of life. We welcome the opportunity to make a positive impression on these new humans while they form their own understanding of this world we share.
The Department of Inclusion supports families before and during the event. We address concerns, offer advice, and connect parents who may be able to assist each other as they prepare. We do not provide a babysitting service, or assume responsibility for persons under 18: that joy belongs to the parents. We do provide opportunity for participants of all ages to reach beyond divisions and limitations to connect with the community. To learn more about Ohana House: our community-inclusive event space, please read on.
For any questions regarding children at Nowhere, email inclusion@goingnowhere.org
Or visit the FAQ page here: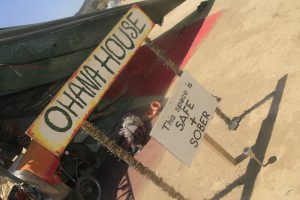 On site, the Department of Inclusion runs Ohana House: a designated Safe/Sober space that welcomes all ages and abilities. We host daily community-inclusive events, alongside creative activities, and general chill space for those who seek space away from the thumpa-thumpa heartbeat of the city. This space strives to be kid-friendly at all times, asking any who enter to exercise consideration and self-control.
Daily events include:
Nowhere Ninos: Daily kids-focused activity.
Storytime Siesta: Escape the heat while listening to stories read by your Ohana.
Crafternoon Delight: Get crafty! Bring your own project, or choose one of ours!
By the People, For the People: Open slots daily for events hosted by YOU.
NED Talks: Daily discussion group focused around diversity.
Ohana Night: Different community-focused activity each night
To see what we've got going on this year, check out our Facebook page here: https://www.facebook.com/OhanaHouse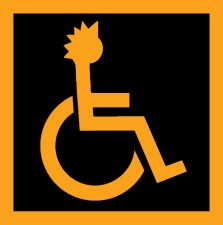 The department also offers support to individuals who live with limitations, and may have needs that go beyond that of a "typical" participant.
Things to Consider:
The nearest hospital is about an hour away, and a basic medical centre about 20 minutes away. We aren't legally allowed to administer medication, so if there is anything you feel you will need, please be sure to bring it. Onsite, we have a Red Cross ambulance crew in case of emergencies and a medical tent with basic first aid. There will be someone there 24 hours a day, with a radio and mobile phone.
Before you decide to buy a ticket, we strongly suggest you read the Survival Guide, which may address any questions or concerns you may have, or help identify potential obstacles ahead. Last years guide can be found here.
On site
There will be no driving on site this year. For disabled participants or those who feel they need additional assistance a permit can be arranged to use a vehicle for transport to the campsite.
If you would like to request one please contact inclusion@goingnowhere.org before 15 June to arrange this.
Companions
We offer Companion tickets for those with disabilities. A Companion is any person who, by attending the event, enables another person to participate. This may include carers for disabled participants, interpreters for hearing impaired, or support for those with unique needs.
If you think you may have need for a companion to join you, please email us to discuss options at inclusion@goingnowhere.org
Deaf and Hearing Impaired Participants
Nowhere recognizes that as a multi-lingual event, our deaf/sign language using artists, families, and friends may benefit by bringing a sign companion to assist in bridging the gaps between the many languages we speak at Nowhere. Companion tickets for an interpreter are available once a ticket has been purchased by the artist or participant. Please email tickets@goingnowhere.org for more information.
All this being said: one of our core tenets at Nowhere is also radical self-reliance, and we don't want to deny any participant that experience. We assist in making Nowhere more accessible and welcoming, while encouraging every person to take the initiative to include themselves in the community. Inclusion starts first with acceptance: of Self, of the world around us, of the many moments that form our lives, and of all the different ways there are to be Human. In the end, we all face barriers of one kind or the other, and its up to us to step past our perceived limitations to stand (or sit) as equal members of this rag-tag community.
If after reading the survival material, you do not feel you will be able to participate due to your specific limitation, we kindly remind you that this is an annual event. We encourage you to keep the conversation with us going, and see what arrangements may be made in future years. Remember, we are learning as we grow! Questions and feedback are always welcome. If you've got something to say, include yourself in the conversation by emailing inclusion@goingnowhere.org
Passionate about community in all shapes and forms? Interested in hosting an event, sharing a story, or helping to create a welcoming space on site? Volunteer with the Department of Inclusion! For more information, email inclusion@goingnowhere.org