It's the final countdown! Boots on the ground in 7 days!
The buses will start at the time on your ticket at Barcelona Sants Station (Sants Estacio') from the side of the Balaña cinema.
Sants is an extremely busy station so allow some time to find the meeting point.

GPS location of meeting point at Sants:  
https://maps.app.goo.gl/mqCFDYXjskY9dBbF6

You will not be allowed to board the BUILD buses without an Early Entry ticket.

We hope to have a Nowhere sign on the front of the bus, it will look like this: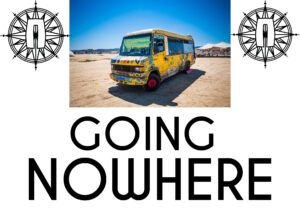 ALL buses will then make a very short stop at Barcelona El Prat Airport, leaving from Terminal 2 area C.
The bus will arrive at the airport 15-25 minutes after the departing time at Sants Station.
It's a big airport so allow some time to find the meeting point.
GPS location of meeting point at the airport:
https://maps.app.goo.gl/QbAbH6ch7RDdtuhR7

Here are some pictures: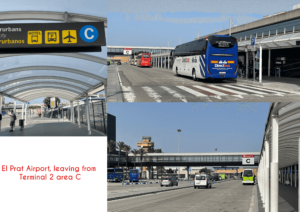 If you are planning to catch the bus at the airport please inform us bus@goingnowhere.org because the official starting point is Sants, please try to start from Sants station.
IMPORTANT: It's your responsibility to get to the bus 30 minutes before departure time!
You are allowed to bring with you only:
1 big suitcase / luggage

1 tent

1 hand luggage

NO Bikes

NO other bulky stuff

NO art cars
ID and Nowhere ticket (printed or on a fully charged phone) will be requested.
There will be a very short pee-break and also you will have half hour in Sariñena, the town closest to Nowhere, to buy water and food for the event. 

Estimated time of the journey is about 5 hours.
Nowhere is not responsible for missed buses and will not pick you up because you missed your bus… don't miss your bus!
The bus tickets cannot be refunded and cannot be cancelled. 
Name, time and date changes are possible only via Quicket please write us bus@goingnowhere.org

The buses back will start at Nowhere Gate and they will all call at the airport, final destination is Sants.
DUSTY HUGS!
ONLY 4 DAYS LEFT TO GET YOUR EVENTS IN THE GUIDE!
You're a Nobody, but that doesn't mean you should be unknown. The What When Where (WWW) guide is the main event go-to for all kinds of info – including workshops, parties, play spaces, costume swaps, coffee bars, and everything else going on at your camp. You're doing so much work to create something special out there, spread the word via the WWW so people show up to share in the magic. Note that to fit all your lovely words into the guide, the character limit is 450 characters. The form won't let you submit any more than that.
The earlier you submit your information, the happier you will make the Nowhere gods and they will smile favorably upon you
The deadline for submission is midnight GMT on 12th June 2023.
✨VOLUN-CHEERS FOR VOLUNTEERS!✨
After our call out during the last month or so, so many of you lovely nobodies stepped up to help out during build that we have filled almost every role before the event! BUT we still need some nobodies to sign up to event-time shifts. You can see the shifts we need below
🦸Call for Nomads – Night and Weekend Shifts!
Nomads (Nowhere's Rangers) are friendly, knowledgeable folks who spend their shift roaming the site to give out information and help with minor issues. They are the "eyes on the ground" and liaise between the community and Nowhere operations. They may be called upon to help in the event of an emergency. No experience is necessary, as training will be provided, and returning Nomads are of course very welcome!
Sign up for FIST at https://fist.goingnowhere.org/ or email malfare@goingnowhere.org if you have any questions.
🧚WELFARE ENOUGH SHIFT LEADS AND WELFAIRIES NEEDED
Welfare can be super fun and fulfilling, and leaves volunteers with that warm glow of having helped real people who just needed a cup of tea, a chat, or a shoulder to cry on. Serious cases are transferred to Malfare and the Red Cross as needed, and the volunteers work as a team so no one is left dealing with difficult situations alone.
We are having trouble filling some of our more important shifts. Friday night and Sunday day for our Shift Leads and weekend nights for our regular Welfairies are particularly vital to be filled (as you can understand!). Without nobodies taking on these roles, we won't be able to run a safe Welfare space on the weekend.If you or someone you know would be a good fit, sign up for a welfare shift, particularly for the big party nights.
👷Build and Strike Volunteers Needed for City Planning, and a Demarcation Lead!
Wanna build up our magical town? We need volunteers to pound rebar, place signs, and hang tape all over the site. You'll be driving around site, working with our electric hammer, making the city look like a vaguely well-organized fortress.
In addition to regular volunteers, City Planning needs a Demarcation Lead. Click the link to read the full requirements. You must have a valid Spanish driver's license and arrive Monday July 26 to lead volunteers in placement of signs, rebar, and red and white "idiot tape." Sound fun?
Email volunteers@goingnowhere.org and they will make sure you have all the info you need!
🏝OHANA HOUSE NEEDS PEOPLE
The Inclusion Team works to ensure that as many people as possible can access and enjoy Nowhere, from families to people living with disabilities. You can read about Inclusion at Nowhere here. Ohana House is a shady, quieter, sober, daytime structure designed as a respite from the noise and bustle of Nowhere. It is a child-friendly space, which all users are asked to respect, and we'd love to host appropriate workshops there; perhaps crafting, story time, singalongs.
We're urgently seeking someone (or a group of people?) to decorate the space and coordinate events there. If you have any questions, requests, or suggestions relating to inclusion, email the team at inclusion@goingnowhere.org
Want to hold a workshop or Middle of Nowhere (MoN)?
Now's your chance!
Hey there, you magnificent performers! Guess what? At the "Middle of Nowhere" (MoN), we still have a few slots left just for YOU to show off your mind-boggling talents!
Picture this: you, standing under the brightest red stretch tent you've ever laid eyes on, surrounded by a kaleidoscope of colors and an audience eagerly awaiting your mind-boggling spectacle. It's time to unleash your inner creative side and leave them begging for more!
So, if you're ready to embrace the extraordinary, send in your applications today! We're seeking the most outlandish, jaw-dropping, and downright hilarious creators to grace our magnificent space.